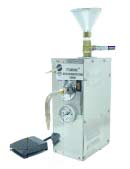 Lotus
Lotus Steam Cleaning Systems
Now you can steam clean at the most affordable prices, and still receive the best steam cleaning system in the world. Even our CL2020 Lotus steam cleaner performs better, and more efficiently than models from many other manufacturers that cost much more.
But rather than take our word for it, why not contact us and set up a demonstration? We think that once you see how well this unit performs, the results will be all the convincing you will need.
Exclusive Features
Compact design, yet have the power up to 100 PSI.
Due to patented and patent-pending features, has the same usable capacity as much larger units.
Complete stainless steel construction: pressure vessel greatly exceeds ASME requirements.
Patented low-inertia check valve prevents possible injury and loss of steam in case of accidental opening of the fill valve.
No special installation required: just plug in the unit.
All units are available in 110 Volts or 220 Volts at no additional cost, at prices anyone can afford.
Additional Features/Information
All Steamshine™ products are made in the U.S.A.
US Patent Numbers: #287653 & #4878458 (other Patents pending)
Patent Pending #14596976
Steamshine™ products greatly exceed ASME safety requirements
Tested by and CE certified under #999667
Exceeds testing and acceptedby by the most demanding and rigorous laboratories in North America and Europe.
Specifications
| MODEL | CAPACITY | POWER | SIZE | PRICE | BUY |
| --- | --- | --- | --- | --- | --- |
| CL2020 LOTUS | 0.5 GALLON | 500 WATT | 4.5"Wx12"Hx8"D | $748 | |
| CL2010 LOTUS | 1.4 GALLON | 800 WATT | 8"Wx16"Hx10"D | $1299 | |
| CL2005 LOTUS | 2.3 GALLON | 1000 WATT | 9"Wx16"Hx12"D | $1499 | |
| CL9001 LOTUS | 6.0 GALLON | 1650 WATT | 16"Hx19"Wx18" | $2699 | |
Notes: Please be sure to review the following: