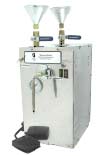 Regalia
Regalia Steam Cleaning Systems
Your Customers Will See the Light
From the moment you clean the first diamond ring, a revelation awaits you: Superlative rainbows of color, shining and glittering gold, all conveying a freshness never seen before. Celestially clean jewelry, indefinable magic, when Steamshine™ Regalia meets diamonds, platinum and gold, the sparkles just fly. Light is the first element of creation. Cleanliness is next to Godliness.
Exclusive Features
Two tank design
The first tank holds the diamond-based buffing compound
The second tank holds the water
At the flip of the switch it will gently polish, buff, and clean to perfection
Additional Features/Information
All Steamshine™ products are made in the U.S.A.
US Patent Numbers: #287653 & #4878458 (other Patents pending)
Patent Pending #14596976
Steamshine™ products greatly exceed ASME safety requirements
Tested by and CE certified under #999667
Exceeds testing and acceptedby by the most demanding and rigorous laboratories in North America and Europe.
Specifications
| MODEL | CAPACITY | POWER | SIZE | PRICE | BUY |
| --- | --- | --- | --- | --- | --- |
| CL2005 REGALIA | 2.3 GALLON | 2000 WATT | 9"W x 16"H x 12"D | $2999 | |
| CL9001 REGALIA | 6 GALLON | 2000 WATT | 9"W x 16"H x 32"D | $4999 | |
Notes: