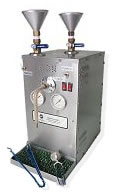 Steamshine™ Steam Cleaners:
We are the world leaders in micronic precision cleaning, using nano technology at the molecular level. Steamshine™ steam cleaners are installed in over 90,000 locations worldwide. Our steam cleaning systems clean jewelry, diamonds, medical and dental implants, optics, electronic components and much more. We have even worked with a company that manufactures solar panels, and have created the best steam cleaning equipment for their specific needs.
We have produced more steam cleaners (current models) than all our competitors combined. There is a reason for that: We have put in thousands of hours of research ourselves and with help from NASA, major Universities, and other individuals to create the most advanced, energy efficient, productive steam cleaners on the market.
Our steam cleaners have applications to the Dental, Jewelry, Optical and other industries. We can even customize our units for your specific needs. Just let us know how we can help you and your business succeed.
If you do not believe us, just call us for a demonstration. Actions speak louder than words, and the results of our steam cleaners can convince you better than anything else we can think of. Your diamonds will sparkle and shine with a dimension that you may never have seen before. Our steam cleaners are not just the best value. Our steam cleaning equipment is the best. Period.
Ultra Steamshine™ Regalia
CL2005 Regalia 2.3 gallon capacity
CL9001 Regalia 6 gallon capacity
Super Steamshine™ Nobilia
CL2010 Nobilia 1.4 gallon capacity
CL2005 Nobilia 2.3 gallon capacity
CL2000 Nobilia 4.4 gallon capacity
CL9001 Nobilia 6.0 gallon capacity
Steamshine™ Lotus Super Steam cleaners
CL2020 Lotus 0.5 gallon capacity
CL2010 Lotus 1.4 gallon capacity
CL2005 Lotus 2.3 gallon capacity
CL2000 Lotus 4.4 gallon capacity
CL9001 Lotus 6.0 gallon capacity
All Steamshine™ products and accessories are made in the U.S.A.
Products produced under US Patent Numbers: #287653 & #4878458.
Other Patents are pending.